Partial Dentures vs. Complete Dentures
Partial dentures are dentures that replace only a few missing teeth whereas a conventional complete denture is made and placed in your mouth after the teeth are taken out and the tissues have healed. Healing may take several months. The framework of the complete denture, called the base, is normally made of plastic that closely matches the color of your palate (the roof of your mouth). When the base of the upper denture rests against the gums and palate, it makes a seal to hold the denture in place.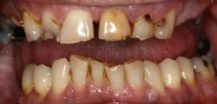 Before Complete Upper Denture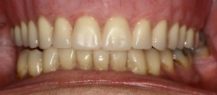 After Complete Upper Denture
Conventional Dentures vs. Immediate Dentures
Conventional dentures are dentures that are made and placed after the remaining teeth are removed and the tissues have healed. Some patients may have the option of getting immediate dentures. For these, the denture is made before the teeth are removed. Once the denture has been made at the lab, the dentist removes the teeth at the next visit and the denture is placed right away. With immediate dentures, the denture wearer does not have to go without teeth during the healing time. Once healing is complete, the dentures may need to be adjusted.
What is an Over-Denture?
An over-denture is a denture that fits over a small number of natural teeth or implants. These can be much more tolerable and desirable due to the functional appeal. They provide the individual with a more stable solution compared to the standard common denture. Many people may refer to this as an "all-on-four" case, in which, as it sounds, is an over-denture supported by four implants.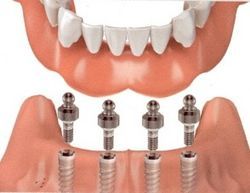 Caring for Your Dentures
Like natural teeth, you must take good care of your dentures. Here are some tips to care for your dentures:
Dentures are very delicate and may break if dropped even a few inches above a hard surface. When handling your dentures, stand over a folded towel or a sink with cool water.
Brush each day to remove food deposits and plaque and to help keep the artificial teeth from getting permanent stains.
It is best to use a special brush and cleanser made for cleaning dentures, but you can use a toothbrush with soft bristles. Don't use hard-bristled brushes because they can damage dentures. You can use an ultrasonic cleaner to clean your dentures, but it does not take the place of careful daily brushing.
The denture needs to be cleaned two to three times daily.
Do not let your dentures dry out or they may lose their shape. When you are not wearing your dentures, put them in a denture cleanser soaking solution or in plain water.
Never soak dentures in hot water. It can cause them to warp.
Taking Care of Full Dentures
In addition to taking care of your dentures, taking care of your mouth is also vital if you wear full dentures. This includes brushing your gums, tongue, and palate every morning with a soft-bristled brush before inserting your dentures. This stimulates your tissues and helps remove plaque.
What should I do if my dentures crack or break?
Call your dentist immediately. Normally, dentures can be repaired quickly, often on the same day at Kneib Dentistry. Damaged dentures can cause additional oral health problems, so see your dentist right away. Never attempt to repair dentures yourself. They require professional repair and adjustment.