Determining if Invisalign® is right for you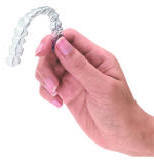 Our office will give you an initial examination to determine if the Invisalign® treatment is right for you. If it appears that it is an option, we will take photographs, X-rays, and an impression of your teeth.
Dr. Kneib, a certified Invisalign® dentist, will then complete further diagnostic analysis to verify that Invisalign® will work for you and create a treatment plan that will determine exactly how the teeth will be straightened. At that time, we will also be able to let you know the estimated cost and length of the Invisalign® treatment and determine if you qualify for orthodontic insurance benefits.
When the treatment plan is finalized, your records will be sent to Invisalign® along with instructions from Dr. Kneib. Using the latest advances in 3-D computer technology, Invisalign® then translates those instructions into a series of aligners, customized specifically for you.
The Invisalign® Process
The total treatment time for most Invisalign® patients averages between 9 and 15 months. During that time, most patients will wear between 18 and 30 different aligners. As you replace each aligner with the next one in the series, your teeth will move—little by little, week by week—until they have straightened into the final position your dentist has prescribed. Typically, each set of aligners is worn for about two weeks. You should wear the aligners at all times to achieve the best results, only removing them to eat, drink, brush, and floss. You will also visit our office once every six weeks to ensure that your Invisalign® treatment is progressing as planned.
| | |
| --- | --- |
| Before Invisalign | After Invisalign |